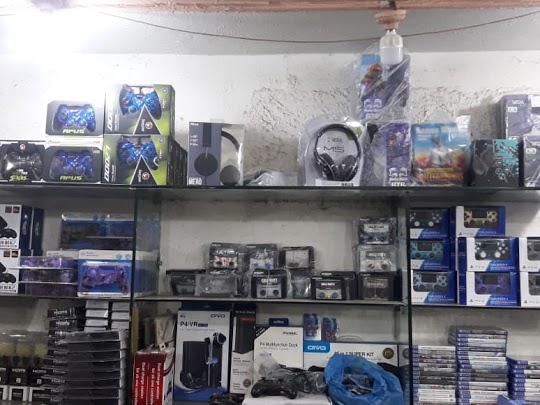 *PS4 GAMING STORE PAKISTAN*
ALL TYPES OF PS4 GAME'S ARE AVAILABLE (BRAND NEW & USED).
PS4 SLIM CONSOLE USED AND BRAND NEW AVAILABLE FOR SALE.
ALSO DEAL'S IN XBOX ONE GAME'S.
PS4 GIFT CARDS & PS PLUS MEMBERSHIP'S.
10$ 20$ 25$ 30$ 60$ 100$
WE DO ACCEPT TRADE'S IN USED GAMES.
ACCESSORIES WE PROVIDE,
*PS4 CONSOLE SKIN'S (SLIM,FAT & PRO).
*PS4 CONTROLLER'S (BRAND NEW,USED & MASTER COPY)
*PS4 DUST KIT.
*PS4 CONTROLLER FREAK'S & GRIPS.
*PS4 CONTROLLER SILICON COVER'S.
AND MUCH MORE.
REPAIR SERVICE WE PROVIDE,
*CONSOLE SERVICE (CLEANING.)
*CONSOLE LIGHT ISSUE.
*CONSOLE LAG ISSUE.
*CONSOLE BLUE LIGHT ISSU (50% CHANCES TO BE FIX)
*CONSOLE HDMI PORT ISSUE.
*CONSOLE GPU ISSUE.
*CONSOLE ROM REPLACEMENT OR ROM REPAIRMENT.
*CONTROLLER REPAIRMENT ( ANALOG ISSUE, BATTERY ISSUE, CHARGING PORT ISSUE AND MUCH MORE).
-HOME DELIVERY SERVICE AVAILABLE ALL OVER KARACHI, (FURTHER CITIES WERE PAY FIRST).
CONTACT / WHATSAPP : 03122319157 .